A Frozen Martini! YES! Wait; is this for real? A real vodka martini, in a variety of flavors, that only has 100 calories, and it's like a Popsicle called SKINNY FREEZER? Be still my beating foodie, and beverage loving, heart! I write barbecue and grilling cookbooks and let me tell you... it get's hot standing by the grill in the middle of summer. Now there is a low –calorie frozen... yes... frozen, treat, for adults, that won't hit your waistline! It CAN however hit the POOLSIDE, BEACH SIDE, BAR SIDE, and GRILL SIDE! Made with premium 8-times distilled, charcoal filtered Vodka, this medley of Martini flavors will delight your palette! So whichever "side" you choose take the new 100 calorie Slim Chillers Vodka Martini SKINNY FREEZER! Your back side will thank you. This adds a whole new layer to tailgating at the game, race, or just in the back yard while the game is on the radio.
Available Flavors: If you're going to come up with a frozen vodka martini then why not go for the gold. Slim Chiller went for it by offering up a variety of flavors in their SKINNY FREEZER line. Here's some info from the website.
COSMOPOLITAN: Bursting with an abundance of Cranberry, Orange and a pinch of Lime; the Cosmopolitan Skinny Freezer delivers the perfect refreshing low calorie Cocktail poolside, Beach-side, Bar-side, babe-side, Whatever-side, for any "Cosmo" lover…
WATERMELON LEMONADE: With a perfect balance of sweet Watermelon flavor and the zest of summer Lemonade, our Watermelon/Lemonade Skinny Freezer is sure to quench even the most discerning palate, while offering a unique flavor twist in a low calorie frozen Vodka Martini…
APPLETINI: Like biting into a Granny Smith Apple; our Appletini Skinny Freezer is both tart and sweet, with an amazing texture and a little kick. A sweet frozen Vodka Martini that refreshes at any event…you won't leave THIS Apple on your teacher's desk!
LEMON DROP: We dare you to try and stop at just one!…Imagine, if you will, the perfect mouth watering Lemon Drop Vodka Martini, carefully balanced with just the right Lemon zest and flavor…but now at only a 100 calories and FROZEN!!…What might have once been a dream, Slim Chillers has now made a reality!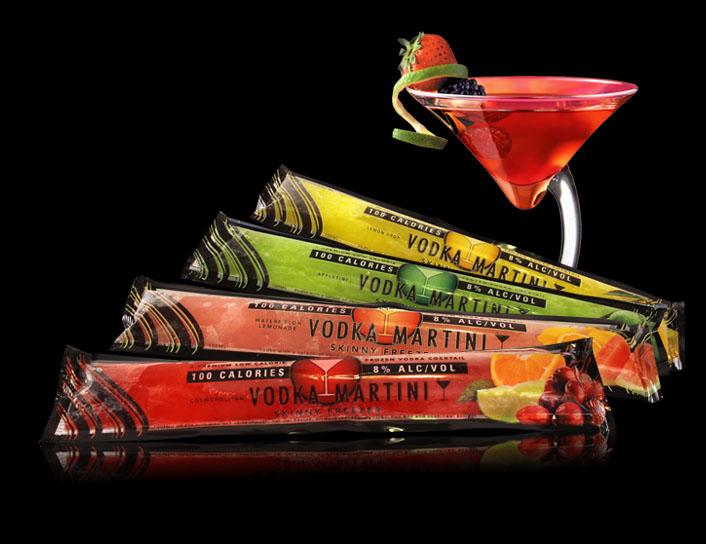 What's great about Slim Chillers is that the company didn't rest on one idea. In fact they also have another equally cool (pun intended) product called BLENDERFULL™. Yep, a flavor loaded package ready for your blender with all of the guess work taken out of the equation. One pouch equals one blenderfull™. Just add four cups of ice, four shots of your favorite tequila, blend, and enjoy a low-calorie frozen Slim Chiller Margarita! Here's the available flavors to date.
PEACH MANGO: Peach and Mango go together like a Caribbean breeze accompanied by an umbrella drink in hand. Our Slim Chillers Peach-Mango Zero Calorie Margarita mix is a distinct blend of Peach and Mango that is sweet and richly flavored for only the most discriminating. Use your favorite Tequila for that perfect Margarita; make a delightful Daiquiri with your favorite rum. Like Bellini's? Mix with Champagne for that special occasion.
ORIGINAL: What can we say about the Original Margarita, other than we seem to have figured out how to perfect it?!?… Zero compromise on the flavor, all while reducing the calories to a fraction of what you'd find in those regular "sugared up" versions! Aye Caramba! Serve it blended, on the rocks, neat, salted or sugared. You can now enjoy an "original" Margarita guilt free, provided it's a Slim Chillers Original Blenderfulls Margarita with Zero fat (of course!), Zero Calories, Zero Carbs, and Zero Sugars,(except for the Alcohol)..Cheers!
STRAWBERRY LEMONADE: Here you go Strawberry-Lemonade lovers! This old fashion summertime drink just got a make over. Move over rocking chairs and blast to the future with the sweet taste of strawberries and the refreshing taste of lemonade. Just add your favorite spirit and enjoy.
POMEGRANATE: Pomegranate is considered the fruit for the romantic at heart. A fruit with many seeds, the pomegranate is the traditional representation of fertility, and appears to have its origins everywhere. Serenade your sweetie with this powerful fruit flavored concoction. Blended or on the rocks, with tequila or rum, enjoy Slim Chillers Pomegranate Zero Calorie BlenderFulls. Your love life can't go wrong.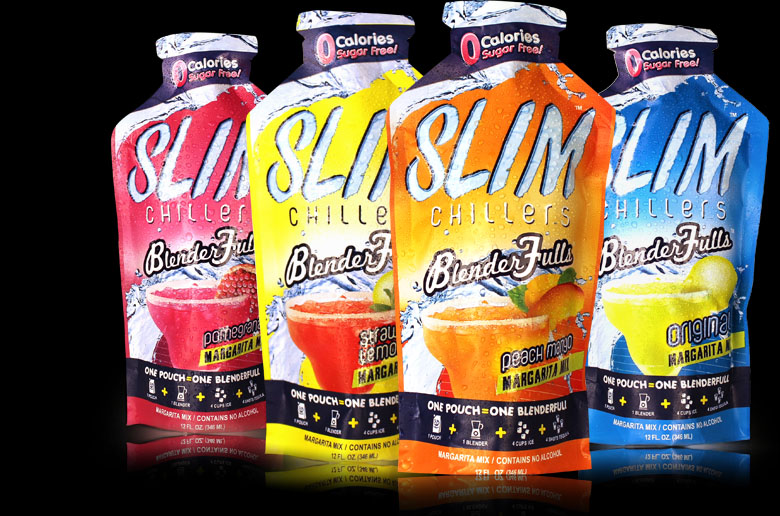 SLIM CHILLERS Info
Website: http://slimchillers.com/
Email:

This email address is being protected from spambots. You need JavaScript enabled to view it.

This email address is being protected from spambots. You need JavaScript enabled to view it.

This email address is being protected from spambots. You need JavaScript enabled to view it.
Finally, a low –calorie frozen treat, for adults, that won't hit your waistline! It CAN however hit the POOLSIDE, BEACHSIDE, BARSIDE, and GRILLSIDE! Made with premium 8-times distilled, charcoal filtered Vodka, this medley of Martini flavors will delight your palette! So whichever "side" you choose take the new 100 calorie Slim Chillers Vodka Martini SKINNY FREEZER! Your back side will thank you. - See more at:
http://slimchillers.com/skinny-freezers/#cosmopolitan
Finally, a low –calorie frozen treat, for adults, that won't hit your waistline! It CAN however hit the POOLSIDE, BEACHSIDE, BARSIDE, and GRILLSIDE! Made with premium 8-times distilled, charcoal filtered Vodka, this medley of Martini flavors will delight your palette! So whichever "side" you choose take the new 100 calorie Slim Chillers Vodka Martini SKINNY FREEZER! Your back side will thank you. - See more at:
http://slimchillers.com/skinny-freezers/#cosmopolitan