Malliouhana, An Auberge Resort Opens November 1st on Anguilla. The Celebrated Caribbean Resort Reemerges from a Three-Year Closure and Redesign with New Guest Rooms, Restaurant, Public Spaces and Spa While Keeping its Historic Legacy Intact - Anguilla, BWI (PRWEB) September 02, 2014
Auberge Resorts Collection, the internationally renowned developer and operator of boutique luxury hotels, resorts, residences and private clubs, will unveil an all-new Malliouhana on November 1, 2014, 30 years to the day after the legendary jet-set resort originally opened at its iconic location on a bluff high above Meads Bay and Turtle Cove on the island of Anguilla. Offering nearly 360-degree views of the Caribbean, Malliouhana re-emerges after a three-year closure and a top-to-bottom renovation that includes the creation of 46 spacious ocean-view rooms and suites; an open-air cliff-side restaurant spearheaded by award-winning Chef Jeremy Bearman; a signature Auberge Spa; and a two-tiered infinity swimming pool flanked by private cabanas. Auberge Resorts Collection partnered with celebrated global hospitality firm SB Architects and Todd Avery Lenahan of TAL Studio on the redesign, which evokes the glamorous ambiance of Anguilla during the '50s and '60s and raises the bar for luxury in the Caribbean.
"Malliouhana is Anguilla's crown jewel and the thoughtful details and elements from the transformation bring the hotel to life as one of the Caribbean's most trendsetting destinations," said John Vasatka, General Manager. "The revitalization has honored the historic legacy of Malliouhana, while adding layers of design, luxury and gastronomy that will enhance the guest experience."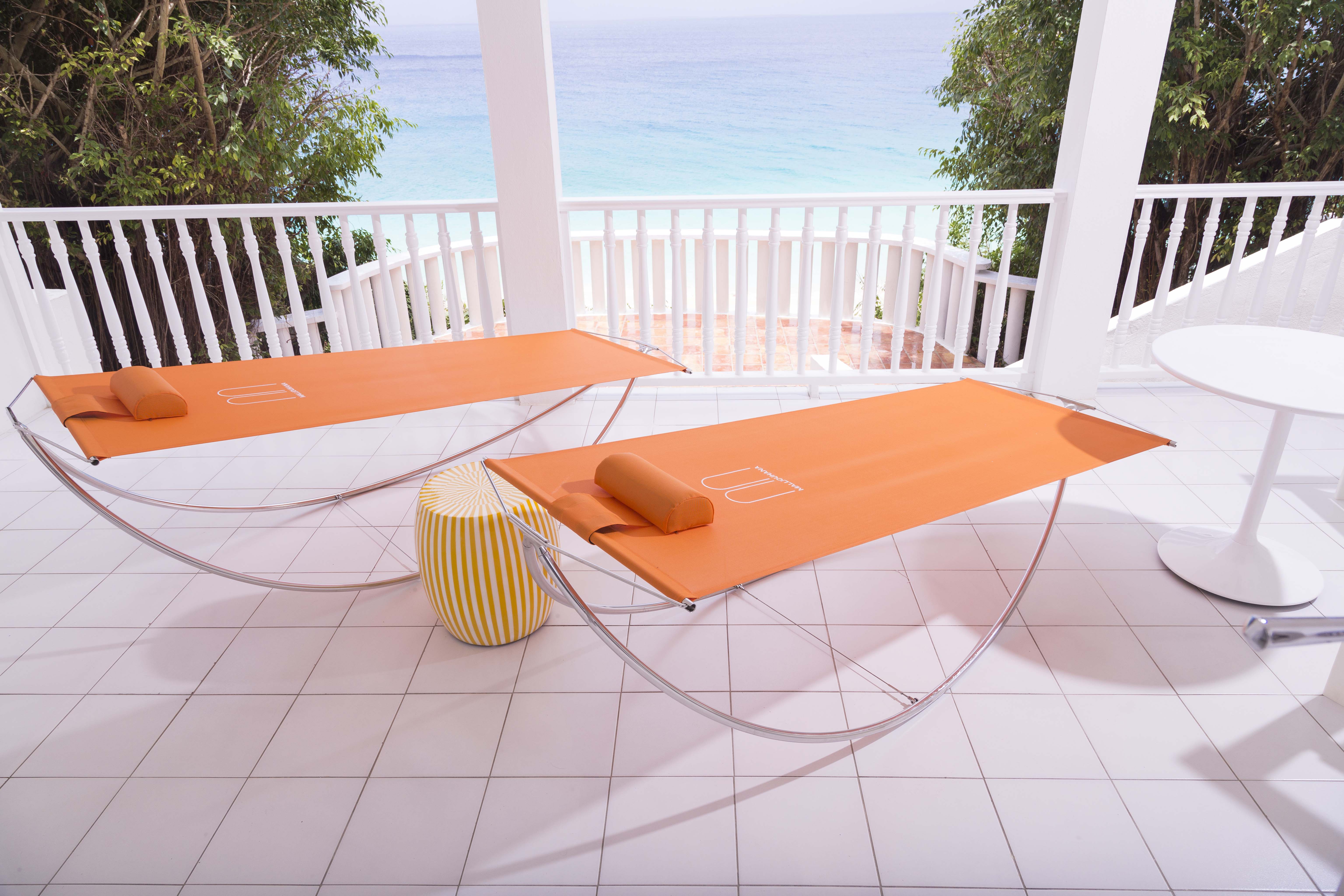 Guest Accommodations
Set on 20 acres of prime beachfront that includes two white-sand beaches, the reimagined Malliouhana retains its original white buildings, tiled roofs and elegant Moorish arches. New structural enhancements strengthen the resort's connection to the sea by opening up stunning ocean views. Interior designer Lenahan plays on the island's love of exuberant color in the décor of the guest accommodations, which range from 720-square-foot double rooms to 2,500 square-foot two-bedroom suites. All feature original Anguillan and Haitian artwork commissioned for the resort and expansive ocean-view terraces. Etched into the polished white floors are three interlocking porpoises, a nod to the symbol on the national flag of Anguilla.
Restaurant
The resort's original Michelin three-star restaurant set the standard for gourmet cuisine in the Caribbean. Its new open-air Restaurant at Malliouhana continues this fine-dining tradition, but in a more relaxed atmosphere and with more approachable fare. Chef Jeremy Bearman, formerly of the Michelin-starred Rouge Tomate in New York City, will offer a selection of large and small plates that pay homage to French cuisine while utilizing produce and herbs from the resort's garden, local island ingredients and some of the best seafood in the world. The adjoining Sunset Bar, where guests can enjoy live music and dramatic Caribbean sunsets, will offer rums from around the world and handcrafted cocktails. The resort will also offer an extensive wine list, an Auberge Resort hallmark.
Spa
Housed in an intimate Caribbean villa, the two-story Auberge Spa features tropical gardens, an outdoor relaxation area and four treatment rooms designed to take advantage of Anguilla's balmy trade winds. A spacious couple's spa suite includes private changing facilities and a private verandah. In Auberge Spa, Auberge-trained therapists will employ natural, indigenous healing agents to create luxury spa treatments tailored to guests' specific health, wellness and beauty needs, some using Malliouhana's custom-blended bath products created from a combination of lime and clementine and balanced with the rich aromas of ylang ylang and jasmine.
Public Spaces
In addition to the resort's two white-sand beaches, guests can enjoy the new two-tiered swimming pool, which features private cabanas for adults and families. Auberge Adventures at Malliouhana will provide intimate ways for guests to explore Anguilla and the Caribbean with experiences including watercrafts, island hopping, deep sea fishing, sailing classes and horseback riding. The fitness program highlights outdoor activities such as paddleboard yoga, sea-based aqua classes, beach boot camp workouts and more.
Malliouhana's refined yet relaxed setting offers an ideal venue for meetings, weddings and social events. Plans call for the resort to host just one wedding per day, so couples will be assured the undivided attention of the catering and events staff.
Come Celebrate
Malliouhana is celebrating the unveiling of its stunning redesign with special guest packages. Rates will begin at $525 per night with special introductory promotions including the "Island Debut," "Warm Up Your Winter" and "Retreat To Romance" packages For more information or to book, guests can call 1-866-282-3743 or visit http://www.malliouhana.com.
.......................................................
About Auberge Resorts Collection
Auberge Resorts Collection owns and operates a portfolio of exceptional hotels, resorts, residences and private clubs under two distinct brands: Auberge Hotels and Resorts, timeless luxury properties acclaimed for their intimate, understated elegance, and VieVage Hotels and Resorts, a new take on luxury that brings together contemporary themes of design, community and wellness in a fresh, active and social environment. While Auberge nurtures the individuality of each property, all share a crafted approach to luxury that is expressed through captivating design, exceptional cuisine and spas, and passionate service. Properties in the Auberge Resorts Collection include: Auberge du Soleil and Calistoga Ranch, Napa Valley, Calif.; Esperanza, Los Cabos, Mexico; Hotel Jerome, Aspen, Colo.; Malliouhana, Anguilla; The Auberge Residences at Element 52, Telluride, Colo.; Pronghorn Resort, Bend, Ore., and VieVage, Napa Valley, Calif., with several others in development. For more information about Auberge Resorts Collection, please visit http://www.aubergeresorts.com/. Follow Auberge Resorts Collection on Facebook at facebook.com/AubergeResorts and on Twitter at @AubergeResorts.